Hello and welcome to this guide, before you read this article, you need to get an idea what is EO and the concept of it(refers like console rom emulator...),  I'll try to explain how to use Emulator Organizer built in command line editor, many people use bat file to run certain emulators games while eo has simple editor to auto generate command in gui way so I hope this article may help you to easily use it
By default EO (emulator organizer  send the rom or game path to dedicated emulator, so you don't need to do any thing to play games with eo except dc on it, but in certain situation, it's critical to add extra command in order play the rom (game)
EO has two level, one for emulator the other for individual rom, the first when used, will affect all the rom in the console for that emulator only, example using command line on nestopia (nes emulator) will affect all game for nestopia but not for fcultra (another nes emulator)
the second can be accesed by right click over rom then selecting properity->special command line, use sc for this emulator list contain all the used emulator for the selected console (nestopia fcultra.. for nes console) select one emulator and add command line and this will affect this game for this emulator(not complicated right)
EO command line editor can send all command line with one line like bat file or one by one like in older version in gui interface
so let'us use the first method with simple example
I 'll use epsxe 1.7 (famous play staion 1 emulator) you can grap it from here:
[You must be registered and logged in to see this link.]
now make sure you config this emulator (bios video sound..) then you can config it inside eo
The command line for running iso file for epsxe
rompath -nogui -loadbin
now right click over epsxe inside emulator panel inside eo go to property you'll see command lines panel with yellow default folder icon, uncheck it,now click on the + green button and rename your command group ( name it like new group), right click on it then add command line, window will pop up with name\code fields, the name is not important name it as you like, in the code enter the following line:
<rompath> -nogui -loadbin
click ok, you may ask your self where did <> came from ?
EO has built in script codes ,The dynamic commands are commandlines that used as viraibles, for example, you can use command <rompath> which is a dynamic command and Emulators Organizer translates it to actual rom path and send that path to emulator so you don't need to right the path manualy
in our example above the command line <rompath> -nogui -loadbin will be sended as   "C:\Folder\Rom.x" -nogui -loadbin to epsxe  
here is list of supported available dynamic commands:


<RomPath>: the complete rom path.

<RomName>: the name of the rom without the path.

<RomFolder>: the path of rom folder (no rom name)

<RomNameWithoutExtention>: rom name without both extention (.nes etc...) and rom path.

<RomAttachedFile(1)>: use this command to send related file along with the rom file to emulator
Related file is something attached to the rom, you can edit the file list in rom properties... the number 1 here refere to the related file index 1 change it to the file index.
You can define related file for each rom in rom properity panel=>related files, add the files you want,then use this command to refer to that file.

Note :
 you can use "" to send fixed path. Remember, spaces will split commands. To make command that include spaces understandable, use ""( double quato)
Example:
/open "C:\Folder of roms\Rom number 1.x" /play /exit
(path between "" will considered as one even there are spaces, space split commands so /play and /exit are 2 commands)
The second method is to enter each command line one by one, the split between them is the empty space
rompath -nogui -loadbin
we need to check default group the adding new group and add -
-nogui 
as command the adding -
loadbin
check above how to do this and you should came with some thing like this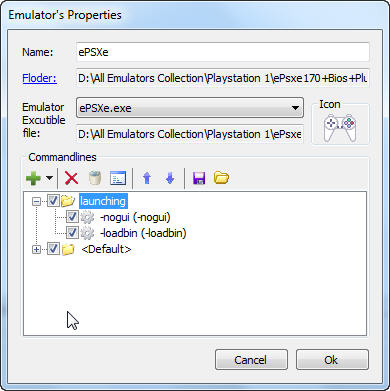 you see above how I separate -nogui and -loadbi commands because of space between them
that's what make commands separated , the empty space
dont' forgot to export your command line list, just click on floppy icon as shown in image above
thank you for reading and i hope this help somehow more info found inside help file came with eo, pls post any question here or in facebook page