Hi, in this guide I 'll try to cover some of eo feature that deals with database file,database file can be variates beside the internal eo format (used to export import roms or extra file info only work for eo) eo support many online format:
No-Intro (*.dat) can iport and export this format
NesCartDB (*.xml)
Clrmamepro (*.dat)
Csv system ini (*.ini) can iport and export this format
why to use this files?
you can do the following:
-match your romset names to the name provided in the database file(physical on your harddisk or virtually only inside eo)
-match your extra file(like snaps cover...etc) with the name of roms
-rename your collection,then apply this physically to the real rom
-filter the missing or non exists matching rom and even delete them
-fill info about your rm like :company year of release.....etc from ini or csv file
-import and export any console(in eo) to .ini or .dat format file
-much more.....
let's say we have build console of sega, we want to rename our rom to no intro dat set file,download the file for sega,then go to database menu=>get name and data from database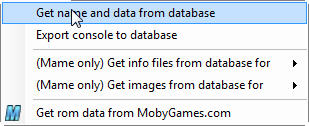 now click browse:
now click where I point the mouse,this should open drop box with many format type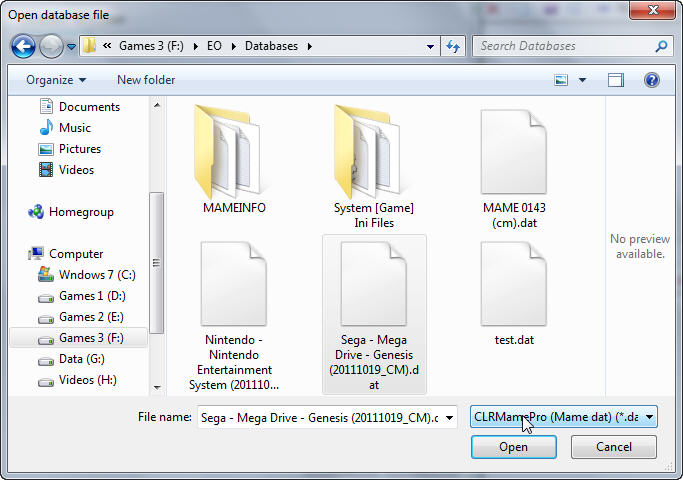 now you should see similar format

in this example I have sega rom set,so I want to import their names and their info(year company player....)
I chose no intro dat file that holds sega rom names and the crc or sh1 (hash)
now I clcik open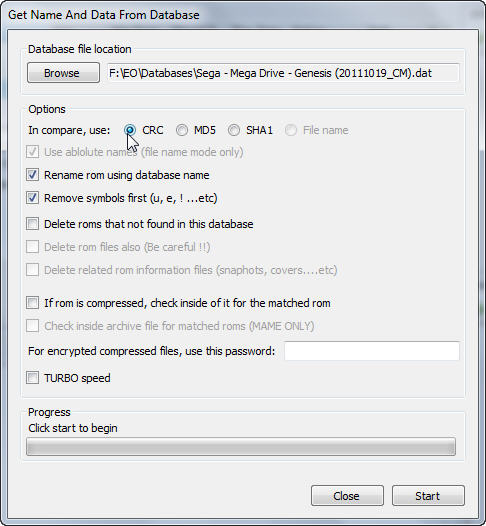 as you see,all the option are self explained,just over the mouse over it and hints should appear
some options goes gray as we didn't be usefull for no intro format,try to import other format like clrmamepro and check it out
now we want to fill info about these rom,download some ini files,those can be found in this page:
[You must be registered and logged in to see this link.]
the file format is like this:
[After Burner]
Publisher=SEGA of America, Inc.
Developer=SEGA Enterprises Ltd.
Released=1994
Systems=Amiga|Amstrad CPC|Atari ST|Commodore 64|DOS|MSX|NES|SEGA Master System|ZX Spectrum
Genre=Action
Perspective=3rd-Person Perspective
Score=3.5
Controls=6-button Controller
Players=1 Player
Esrb=Kids to Adults
Url=http://www.mobygames.com/game/sega-32x/after-burner
Description=Afterburner is a conversion of the arcade game of the same name. The goal is simple: use your F-14 Tomcat and shoot as many enemies as you can. This aircraft has two weapons: lock-on missiles and Vulcan cannons (basically machine guns). In some versions there is an option to let the cannons shoot automatically all the time.<br><br>The game is viewed from behind the plane with you fighting wave after wave of enemy fighters. But at heart it offers the usual shooter mechanics, meaning you spend most of your time dodging and shooting. Sometimes you come across a friendly supply plane and if you dock with it you can replenish your missiles.
Goodname=After Burner Complete
NoIntro=After Burner Complete ~ After Burner
Tosec=After Burner Complete
now follow above step and import ini file instead no intro file(or .dat) and your rom should now have new looks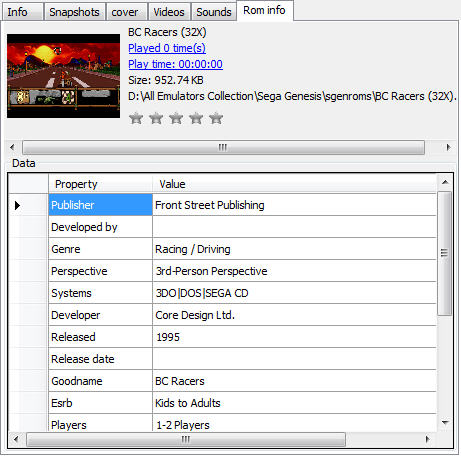 How to match your extra file(like snaps cover...etc) with the name of roms ?
now we have great looking rom collection with extra file for each rom and infos,we don't want to loose our peace of art work, ofcourse you should save your collection but how about your extra file names? you want each rom has same name as rom name,right?
go to tools menu=>rename rom related file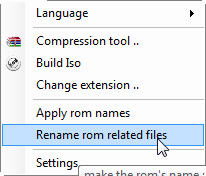 now the list of tabs you have shown up,check what you want to rename and click ok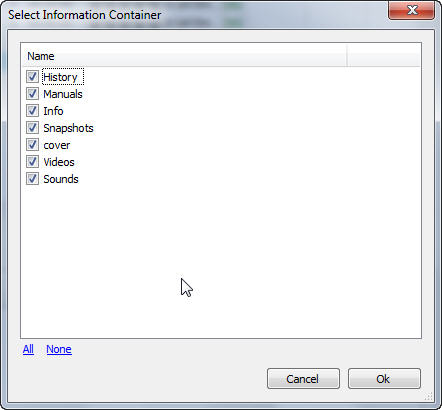 export\import csv or n intro dat file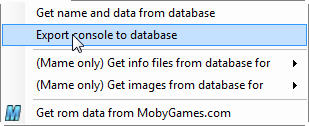 list of your rom shown up,edit the position of any selected rom ,when read click export,choose ini or dat format from drop box
exporting ini file will backup your roms info,export dat will backup your rom hach and names
How to rename my rom not the name in the eo but actuall name in hard disk from database file?
follow above step and rename your rom from database file now go to tools menu=>apply rom names
If you have any question we glad we could help